Samsung Galaxy S20 review
Predictable, yet still pretty impressive. We take a first look at Samsung's new mainstream flagship offers.
Another year, another Galaxy S lineup. You all definitely know the drill by now - these are the best phones Samsung has made to date. Kind of by definition, since innovation is the name of the game. And the game never really stops or takes a break. As DJ Koh, now ex-head of Samsung's mobile division, put it himself at a Galaxy Note unveiling from a while ago - it is obviously getting increasingly hard to push the smartphone envelope consistently, year upon year.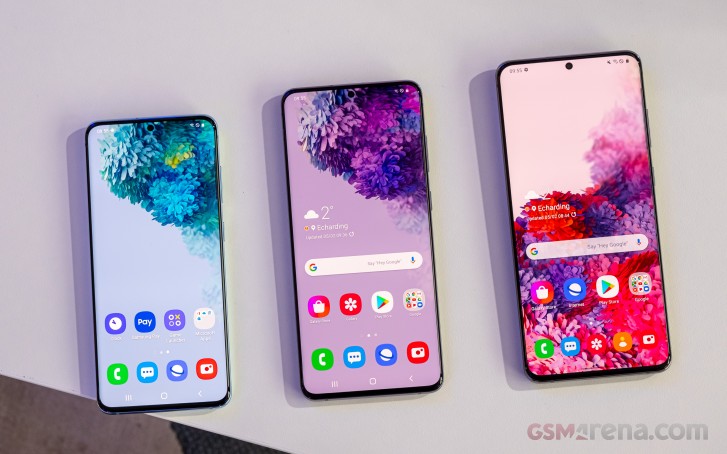 Luckily, there is plenty to love about both the Galaxy S20 and the S20+. Potentially, even more so, when it comes to the top-dog S20 Ultra, since it appears to pack most of Samsung's more radical steps and innovations for 2020.
Samsung Galaxy S20 Samsung Galaxy S20+ Samsung Galaxy S20 Ultra
151.7 x 69.1 x 7.9mm, 163 g 161.9 x 73.7 x 7.8mm, 186 g 166.9 x 76.0 x 8.8mm, 220 g
6.2-inch, QHD+ (563 ppi) 6.7-inch, QHD+ (525 ppi) 6.9-inch, QHD+ (511 ppi)
120Hz high-refresh rate Dynamic AMOLED, HDR10+ certified
IP68, Stereo speaker setup
Chipset Global: Exynos 990 (7nm), Mali G77 MP11 GPU
Chipset US: Qualcomm Snapdragon 865 (7 nm+), Adreno 650 GPU
128GB / 12GB RAM + MicroSD 128GB, 256GB or 512GB / 12GB RAM + MicroSD 128GB, 256GB or 512GB, 12 or 16GB RAM + MicroSD
4,000mAh
25W Fast Charging 4,500mAh
25W Fast Charging 5,000 mAh
45W Fast Charging
Fast Wireless Charging 2.0, Wireless PowerShare
Rear triple camera:
Main - 12MP f/1.8, OIS
Telephoto - 64MP, f/2.0, OIS
- 3x hybrid optical zoom
- 30x super resolution zoom (Space Zoom)
Ultra wide - 12MP, f/2.2
Front camera:
10MP, f/2.2 Rear quad camera:
Main - 12MP, f/1.8, OIS
Telephoto - 64MP, f/2.0, OIS
- 3x hybrid optical zoom
- 30x super resolution zoom (Space Zoom)
Ultra wide - 12MP, f/2.2
DepthVision camera
Front camera:
10MP, f/2.2 Rear quad camera:
Main - 108MP (binned to 12MP), f/1.8, OIS
Telephoto - 48MP (binned to 12MP), f/3.5, OIS
- 10x hybrid optical zoom
- 100x super resolution zoom (Space Zoom)
Ultra wide - 12MP, f/2.2
DepthVision camera
Front camera:
40MP (binned to 10MP), f/2.2
5G (sub-6 only) or 4G (8GB RAM) variant 5G or 4G (8GB RAM) variant 5G only
Grey, Blue and Pink colors Grey, Blue and Black colors Grey and Black colors
4G from - €899
5G from - €999 4G from - €999
5G from - €1099 5G from - €1349
The S20 and S20+ models are arguably a bit tamer and seem to be erring on the safer side of change and leaning heavily on incremental generational improvement. It definitely makes fiscal sense, since you really don't want to disrupt your top-volume products and their market traction too much.
Even so, the S20 and S20+ clearly show growth over the S10 family. Both in features and capabilities, as well as literally - in size. The new Galaxy S lineup is bigger and heavier, raising a few interesting cross-generational heritage questions. Throw in Samsung's new naming convention, where the "S20e", is nowhere to be found and confusion really starts to set in.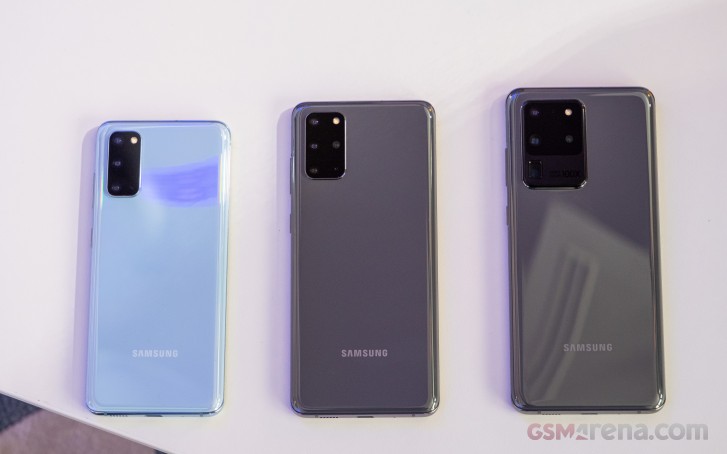 With its 151.7 x 69.1 x 7.9mm, 163 g body and 6.2-inch display, the regular S20 appears to be the successor of the
Galaxy S10
and the
S10+
. As for the S20+, it has increased in size bringing it closer to the
Note10+
if we are to continue the Galaxy analogies. Or, alternatively, the new
Galaxy S10 Lite
and
Galaxy Note10 Lite
. The trend is pretty clear then - phones, or at least Samsung's creations, are still steadily growing year over year.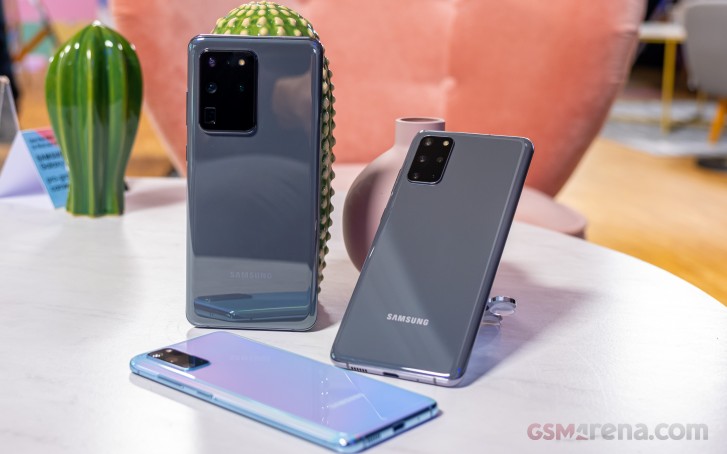 Unlike the latter two, however, the S20 and S20+ are true flagships, packing more than a few goodies to make up for the inflated footprint. Most notably, bigger displays - QHD+ across the board and from Samsung's top-end Dynamic OLED variety. Then there is the notable overall growth in battery capacity, as well as a new, beefier, camera setup. It really does seem like Samsung has prioritized on actual features and usability this time around. Follow us on the next page as we take a deeper dive to see if that is true
One clear benefit from sticking to the same overall sloped side, glass sandwich design on Samsung's end is that ergonomics are already dialed-in pretty much perfectly. The S20, in particular, is a very well-balanced phone weight-wise and sits very comfortably in the hand. And perceptions have changed in the past year or so and it really feels like a compact smartphone when you hold it in hand after
The S20+ indeed has grown in size and finding its counterpart in the S10 family is harder. Measuring 161.9 x 73.7 x 7.8mm and tipping the scale at 186 grams, it definitely has some extra heft to it than the vanilla S20. On a positive note, it is scaled up pretty proportionally, which, combined with the ergonomic design makes for a confident in-hand feel.
You do need hands on the larger side to be comfortable with one-handed operation on this one, though. Weight distribution is also a bit less even than on the S20. Nothing major to raise concern over, of course. As for the extra weight allowance, just like with the S20, the S20+ is battery-dense, packing nice, cool 4,500 mAh under the hood.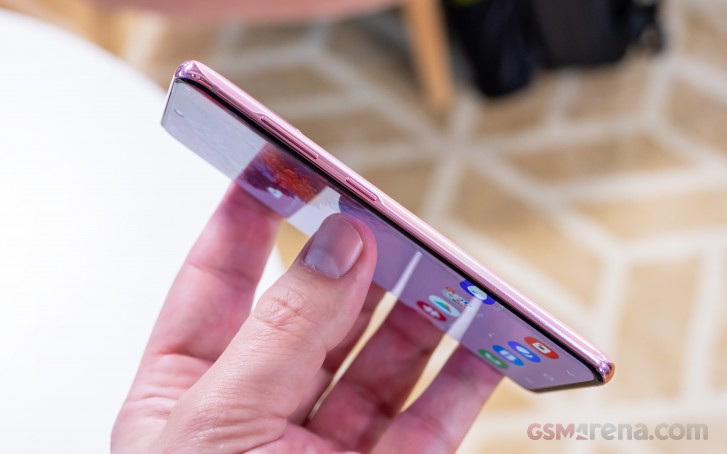 Speaking of the general and familiar design of the S20 and S20+, we can't help but note both the absence of a Bixby key and the traditional right-side placement of the power button. Admittedly, looking at Samsung's phone releases over the past few months, it's clear that left side power button placement has been ditched after Samsung experimented with it on the
Note10
series.
Since we are already on the topic of controls, there are really no surprises to note. Volume and power on the right. SIM and microSD cart tray on the top, alongside a secondary microphone and a Type-C, plus speaker and primary mic on the bottom. That's actually one of a pair of speakers, since the entire S20 line has a stereo speaker setup.
The design hasn't been changed in any significant way. The style of the thin metal frame is different to the ones on the S10 or the Note 10 bit it's not a difference worth commenting on. From the chromed surface to the colors, style wise, the S20 and S20+ are pretty much identical to the Samsung products of recent years.
On the back of the S20 and S20+, the new camera module design is kind of hard to ignore. Well, "new" is a bit of an exaggeration, actually, since we have already seen something similar on the
Galaxy A71
and
A51
. And with the relatively fresh announcement of the Galaxy S10 Lite, we can't even say that the new spacious camera hump is entirely novel for the Galaxy S family either.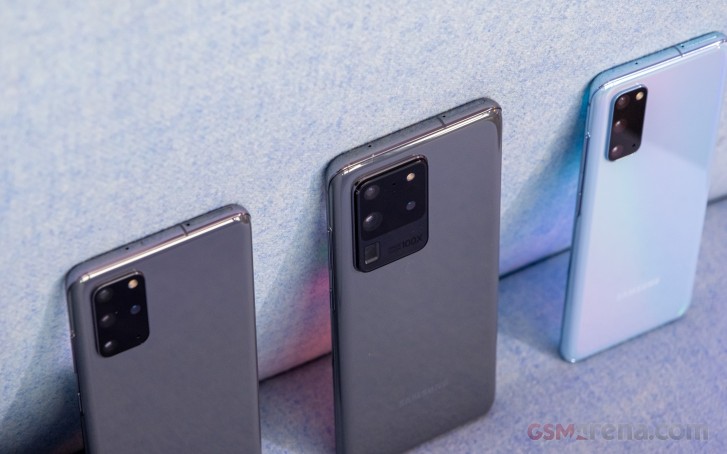 The one on the S20 is quite tall, compared to the other Samsung phones we just referenced. We can't really complain, though, since it kind of fits well with what is a pretty tall phone altogether. Plus, the vanilla S20 definitely has the least, "camera hump dysmorphia" of the three phones. For what it is worth, on the regular S20, at least, the hump doesn't bother us much visually. The lack of any text on it should also be noted, since, looking at the S20 Ultra, apparently it is not a given. It still contributes to a noticeable wobble when when the phone is placed on its back. A case is definitely the way around that, if it bothers you.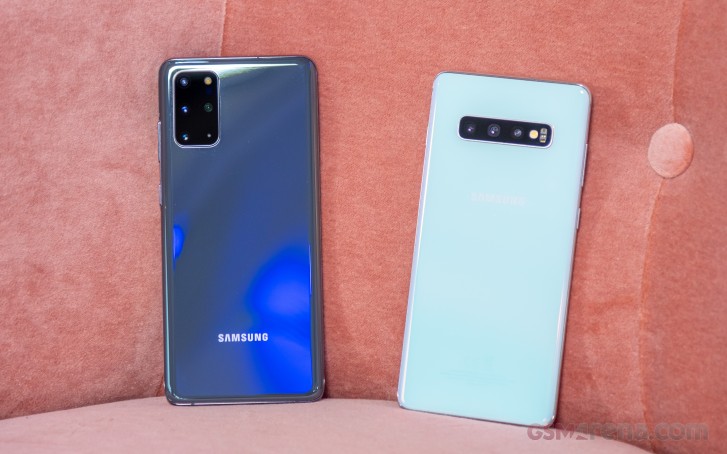 The S20+ gets a wider hump, which arguably makes it look more proportional. Another thing aiding it in the overall looks department is the presence of an extra sensor to fill in that empty, OCD-triggering spot on the S20. We originally thought that a wider hump would equal less desk wobble, but sadly, that didn't really pan out.
Camera
On to the cameras residing on this module. Starting off with the 12MP, f/2.2 ultrawide, things look deceptively straight-forward. The S10 lineup had 12MP main cameras and the S20 and S20 have those two. But the camera systems are not identical. As far as we managed to gather - the cameras on the new phones no longer have the variable dual aperture and have a larger pixel size which should translate into a bigger sensor (while still being 12MP).
Now the main 12MP camera on the S20 and S20+ is fixed at an f/1.8 value, which is a nice middle ground inside the old f/1.5 - f/2.4 range. On the flip side, the Samsung S20 product manager promised us more advanced image stacking processing.
It is definitely a fact that recent advancements in computational photography have really pushed mobile photography to new heights, arguably more rapidly than advanced hardware solutions. Perhaps Samsung deemed its old dual aperture system too complex or no longer necessary, instead electing to cover ground with clever algorithms? We really can't say before we get to do a full review on the S20 line.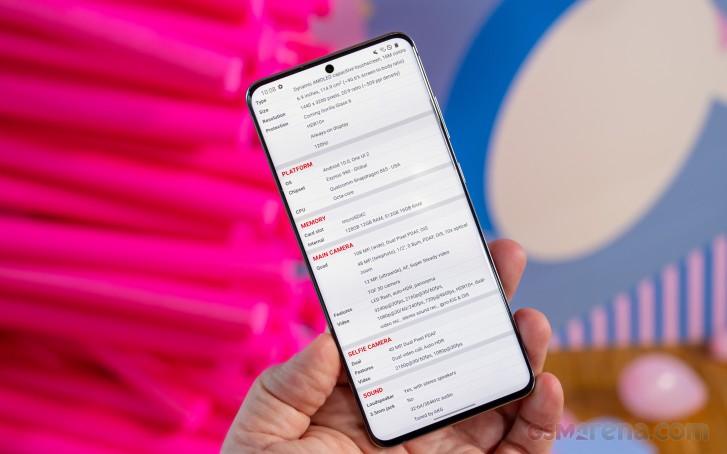 Last, but not least, there is the 64MP telephoto. Decently equipped, with an f/2.0 lens in front and OIS. It will be getting plenty of attention in S20 PR campaigns thanks to the new Hyper Optic Zoom and Super Resolution Zoom features, cumulatively named Space Zoom. On the S20 and S20+, which share most of their camera setup, these two features offer 3x and 30x hybrid optical zoom, respectively.
After trying out the new zoom for ourselves, some questions did arise, especially ones regarding these numbers. From what we managed to gather at the event, as well as some deduction based on specs sheets, this 64MP is likely not a true telephoto unit. Instead, what Samsung seems to be doing to get those 3x and 30x zoom figures is based on cropping. Plus, a bit of difference in the field of view between the main 12MP camera and this 64MP one, which helps to deliver the technically "optical" bit in the company's advertised Hybrid Optic Zoom. This setup is yet to be entirely confirmed, though. Plus, we aren't quite sure of any potential implications quite yet. But this is definitely another aspect of the new Galaxy flagship camera we intend to investigate thoroughly in the full review.